Auto Body Shop – Mobile Dent Removal & Paintless Dent Repair Charlotte
Highly rated Mobile Paintless Dent Repair Charlotte by insurance companies

Our Paintless Dent Removal professionals can provide accurate damage estimates over the phone Get a price quote now!

Check out our PDR Charlotte NC reviews and see why we're the best in Charlotte and nearby areas

PDR Charlotte is the top Auto Body Shop and, most affordable way to repair your vehicle and make it look new again!
Paintless Dent Repair Charlotte | Auto Body Shop
At Piedmont Dent Repair & Auto Body Shop, we understand that sometimes car owners view a dent, ding, or scratch as solely a "cosmetic" problem. Unfortunately, dents usually cause extensive internal and operative problems, which can be time consuming and expensive to fix if they're left alone. That's why we're here to help!
At Piedmont Dent Repair & Auto Body Shop, we pride ourselves on servicing the Western NC and Upstate SC areas with extensive mobile dent repair services. With our team of professional skilled craftsmen, you won't have to worry about your dent popping or sinking back in after an allotted amount of time. In fact, we even offer a limited warranty on damage panel repairs, so you have a safety net and ultimately a general peace of mind that your car won't resort to its damaged state after we repair it. We provide the best dent repair Charlotte!
So, what's our technique? Unlike some car dent repair services, we don't utilize bondo or paint to fix mobile dents. Instead, our process is intricate and tailored to your vehicle and the damage it has. Generally, our team of highly skilled craftsmen evaluates the extent of your vehicle's damage, then utilizes specialized tools to access the damage from the back of the dented panel.
Best Auto Body Shop
It's important for our team to take the time to examine the details of the damage and your overall vehicle, because it allows us to ensure the damage won't resurface. Unfortunately, damages often come back when extra bondo or paint is used to "fix" them. And let's face it: no one wants to have to find another dent repair service to fix their vehicle for the second time.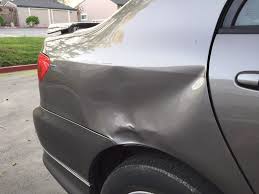 Overall, this process enables us to quickly, efficiently, and adequately repair your vehicle at an affordable price. That means you won't have to worry about the dent popping back up or having to go above your budget in order to fix your car.
Dents, dings, and scratches can happen to any vehicle at any time. A variety of factors, such as weather, animals, and accidents, typically influence these kinds of damages, and unfortunately these factors are often unpredictable and uncontrollable. That's why it's important to be prepared to target and tackle damage even before it happens.
If you have any questions about mobile dent repairs, auto body shop, or just want to learn more about our company and repair processes, give us a call today at (704) 477-0995!
Learn More about Charlotte Mobile Paintless Dent Repair