Paintless Dent Repair in Charlotte NC | Auto Mobile Dent Removal Company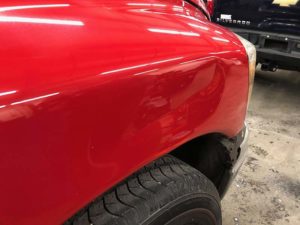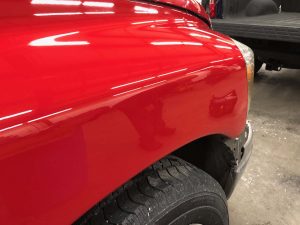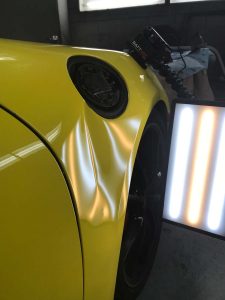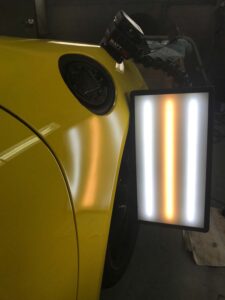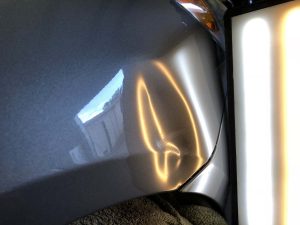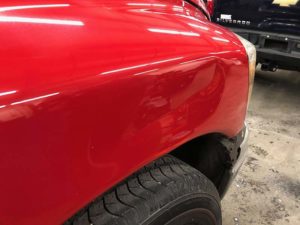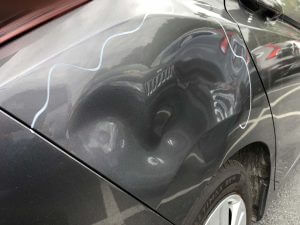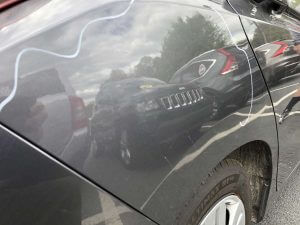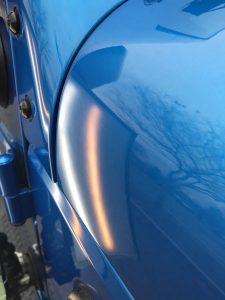 Often referred to as PDR, paintless dent repair is the fine art of removing or repairing dents and body damage to your vehicle without painting. If you search for dent repair Charlotte, or paintless dent repair Charlotte you may read that by using very specialized tools, we are able to access the backside of the panel to massage it back to its original shape,, refered to as paintless dent removal as well. Sometimes we will also remove the dents / damage from the outside of the panel in a series of pulling techniques.
The PDR process protects and saves the original factory paint finish on your vehicle as well as preserving the factory OEM part. Mobile Dent Removal is faster and easier for you—the auto owner.
It is worth noting the results using PDR vary greatly from one company to the next. Not all paintless dent repair Charlotte companies are the same! Craftsmanship, combined with the experience of performing high quality repairs, is paramount when you are considering which PDR company to hire. Once the repair process has been attempted by a less skilled technician, the possibility of achieving a superb top-quality repair is virtually impossible. Therefore, in order to achieve an excellent repair, you must first choose a reputable company capable of meeting your demands. We assist you in this endeavor by offering a great number of before and after photos as well as videos of more complex repairs to accurately demonstrate to you our skill set and abilities. Be sure to Google Dent Repair Charlotte, or paintless dent repair near me, and read our reviews!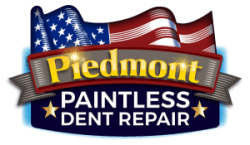 WHY PIEDMONT PAINTLESS DENT REPAIR?
Providing top notch, paintless dent repair in Charlotte, NC and nearby areas for over 20 years!

Free estimates, mobile dent removal company, and PDR available.
No insurance? No problem! We can provide automotive paintless dent repair to you at affordable rates!

No need to google "Paintless Dent Repair Charlotte" … you've already found the best! See our reviews.
Auto Dent Repair in Charlotte NC | Mobile Dent Removal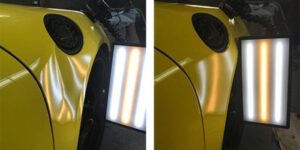 How do we price our Mobile Paintless Dent Repair in Charlotte?
In an effort to be totally transparent in the pricing procedure, we prefer to provide estimates or repair costs after having the benefit of seeing the dent / damage in person. While photos of the damaged or dented panel are useful and often times very helpful, they don't always provide enough information for us to accurately offer a fair estimate. Although there are circumstances when we can quote a price via a phone call or text, our procedure of coming to you to provide estimates for auto dent removal service in Charlotte is the best scenario.
The process of determining the cost of repairs is a very consistent approach, whereby we simply measure the dent / damage then consider factors associated with the damaged panel (body line, edge of panel, aluminum panel, high strength steel, etc.) and via a short calculation we arrive at a price. There is no guesswork, and our method is fully transparent and easy for the vehicle owner to follow.
Give us a call today for the best dent repair Charlotte, and we can help solve your mobile dent repair problems quickly and easily! The best part is we are mobile and make the needed PDR or hail damage repairs at your convenience—whether it be at your home or place of work.
Charlotte Mobile Dent Removal | Piedmont Dent Repair
Paintless Dent Repair Charlotte NC | Mobile Dent Removal
Examples of Dent Repair | Paintless Dent Repair Charlotte