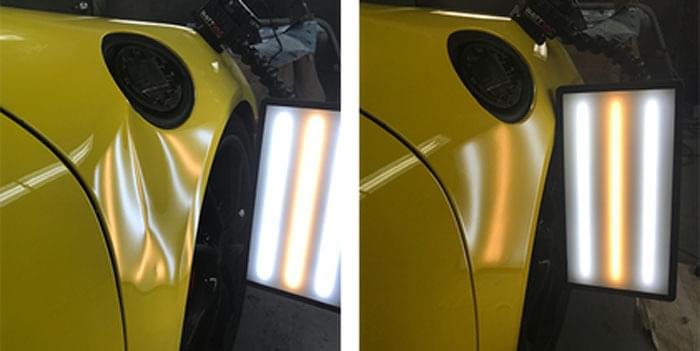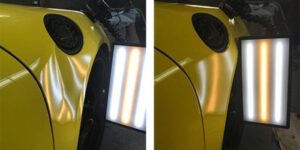 Paintless Dent Removal – Get a Free Quote
Providing top rated mobile auto dent removal services in Ballantyne and nearby areas.

Local, Affordable, and Mobile – we come to you!

Professional, best-in-class treatment guaranteed.

Let us handle your insurance claims.

Call today for a free estimate.
Unfortunately most car owners have to deal with dents on their vehicles at some point. We understand they can be frustrating. You have invested a lot of money in your vehicle and therefore you want it looking and working flawlessly all the time.
If you are looking for a service to deal with dents on your vehicles in Ballantyne then look no further than Piedmont Dent Repair.
Paintless dent removal is a meticulous process requiring a lot of know-how and specialized tools to do right. At Piedmont Dent Repair our technicians are trained to handle all car models. If your car needs paintless dent removal our technicians will deliver on our high quality promise by restoring your vehicle to the pre-accident condition.
Our employees have industry leading experience in paintless dent removal. Their expertise and professionalism is the reason Piedmont Dent Repair has become a renowned and highly sought after dent repair company with a reputation for exceptional service delivery every time.
At Piedmont Dent Repair we can do paintless dent repair for dents ranging from minor to big ones provided that the panel is not stretched beyond repair. With our careful and proven process you can be sure that no further damage can come to your vehicle as we work on it.
Repair Service – Contact Us Today!
Hail Damage Repair – Let Us Fix Your Vehicle
Highly rated company for hail damage repair & minor dents – check out our reviews online.

Best customer service & satisfaction guaranteed!

Professional, mobile, affordable.

Proudly serving Ballantyne and nearby areas for over 20 years.
Hail damage repair is one of the most demanding repairs you might need performed on the body of your car. Hailstorms are known to cause a lot of damage to vehicles leaving even hundreds of dents which can really make your vehicle unsightly.
If that is what has happened to you however, you do not have to worry because it is possible to restore your car to its original condition while still maintaining the original paint. This is very important because it ensures your car retains its value for long.
Imagine if a repair body shop had to sand down almost your entire car of half of it to get rid of dents from a hailstorm. This process would not only be expensive it would also take a long time and reduce your car's worth significantly.
At Piedmont Dent Repair we do hail damage repair that saves you time and money while restoring your car to a better condition than you might have imagined.
Auto Body Shop – Serving Ballantyne
Mobile Dent Removal – Get A Quote!
PDR is highly rated by insurance companies as an efficient, affordable way to fix dents on your vehicle.

Concerned about price? Get a quote online or by phone.

Our company has the best reviews online.

Free estimates and mobile services provided.
Imagine requiring dent removal services and having them done at the comfort of your home or at your work place? At Piedmont Dent Repair we bring our services to you especially for the minor dent removal repairs that will not take longer than a day.
Our mobile dent removal services are available to all our clients in Ballantyne. We respond quickly to your calls and usually within an hour we are there to bring our services to you. Our mobile dent removal services are convenient and hassle free for you.
Our process successfully removes surface imperfections without having to repaint your vehicle. We use the latest technologies and specialized tools for even in our mobile dent removal services so we leave your vehicle in the condition it was in before the accident if not better.
Auto Repair Shop – Call For Mobile Services
Paintless Dent Repair – Highly Rated in Ballantyne
Need an estimate for paintless dent repair? Look no further…

Our methods will make your vehicle look its best while preserving its original paint and OEM parts.

We use only the top techniques and tools to safely remove dents from the body without doing further damage.

Not all nearby PDR companies are created equal… do your due diligence and choose the best!
The multistep but simple repair process at Piedmont Dent Repair ensures that your car is thoroughly inspected and repaired by our duly, industry certified technicians. Our main priority is getting you back on the road quickly with a ride you will be proud of all over again.
We work with all insurance companies and our expert paintless dent repair services are backed by multiple inspections and checks along the way. We do not leave anything to chance and therefore we are happy to offer you a lifetime guarantee on our work.
Our process starts with a free estimate given to you when you bring your car to our shop. Our technicians will inspect it taking note of all the work that will be required and showing you all the dents that need repairing. Believe it some of them you might not even be aware of.
We work with passion on every car that comes to us and the results are evidence enough that we love what we do. Our technicians are professionals with decades of experience in paintless dent removal services. We are all you need to get your car back to pre-accident condition and at the most affordable prices.
Ballantyne is a new upscale and affluent neighborhood lying right on the border of South Carolina with its own luxury collections hotel, PGA ranked golf course, country club and spa. The neighborhood is nestled on 2000 acres of land that once used to be part of the hunting preserve of the late North Carolina Governor, Cameron Morrison.
The crown jewel of this neighborhood when it comes to dining is the Ballantyne Hotel. The hotel offers a new American Cuisine menu with the largest whiskey collection in Charlotte.
Amenities include a spa, indoor and outdoor pools, salon, golf course, lodge, cottage, restaurant, bars, shuttle within one mile, salon, fitness and so much more.
Restaurants in Ballantyne include; Stone Mountain Grill, Gallery Restaurant, Steward's Penick's Terrace, Vine American Kitchen, Bad Daddy's Burger Bar, OGGI Restorante Italiano and many others where you can enjoy a wide variety of cuisines.
Swing a round of golf at the award winning 18-hole course or enjoy a massage at the parlors in the Ballantyne. You will not need to leave the area to enjoy yourself but if you want more action Carowinds is only 10 miles away.