Dent Repair Denver, NC | Paintless Mobile Dent Removal | Auto Repair Shop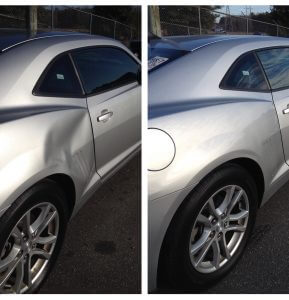 If you live in Denver, NC it is likely that you may have experienced some type of hail damage or minor damage to your vehicle in the past. Working with the right repair shop could be an excellent way to get this damage fixed up quickly so that you can get back to your life. Our Dent Repair in Denver, NC are what you need! Check out the before and after photo above to see what PDR can do for you!
Paintless Dent Repair | Mobile Dent Repair Denver, NC
This was certainly a reality until paintless dent repair Denver, NC became a thing. Piedmont Dent Repair services all of Denver, North Carolina and we can provide high quality dent repairs that can even be performed in just a few hours of you dropping your vehicle off.
We specialize in hail damage and mobile Paintless Dent Repair Denver NC using a technique that does not require paint, and therefore does not compromise the value of your vehicle.
The paintless dent removal process is 100% guaranteed by our technicians who are credited with years of experience in the industry. This solution works in mere hours to get your auto body repair accomplished without the need for extensive bodywork and without us having to hold onto your vehicle for several days.
Your car, truck or SUV could be a good candidate for this method if the majority of the finish surrounding the dent is still intact. Our mobile dent repair technicians can perform this service at your location. This means the process for repairing a simple dent might take just an hour at best.
Our mobile Dent Repair Denver, NC services can be an excellent method for getting your vehicle back on the road quickly. Our technicians can easily repair the damage you may have on site or make recommendations on the best repair solutions that we can use for minor dent repairs, hail damage and more.