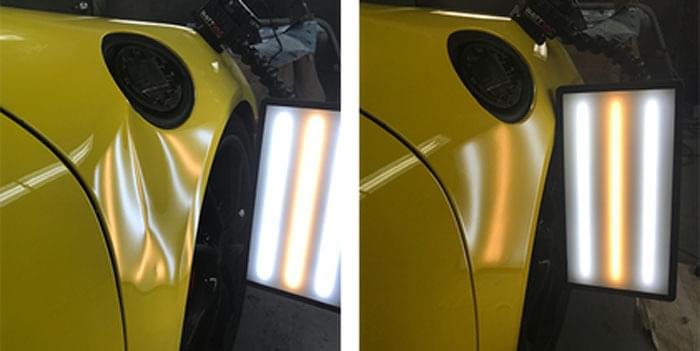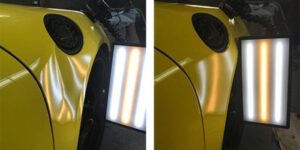 Paintless Dent Removal – 100% Satisfaction Guaranteed!
Need to find the top mobile auto dent removal company in Dilworth and nearby areas? Your search ends here…

Our trusted, highly rated PDR methods are accepted by insurance companies.

Affordable, professional service – guaranteed!

Don't wait for more damage to be done – your best bet is to give us a call ASAP so we can fix your dents!
For all your paintless dent removal needs in Dilworth contact Piedmont Dent Repair, the industry leading expert and enjoy high quality and affordable services.
It can be extremely difficult to avoid dents, dings and creases on your car. However, it is much easier than you might think to restore your car to its previous condition if it has dents and dings. At Piedmont Dent Repair we are the experts in Paintless dent removal (PDR) a process that is highly successful at removing dents and dings while maintaining the original paint of your car.
We start by inspecting the damage to your car thoroughly to determine whether you will need paintless dent removal or traditional body repair. If the metal has been stretched beyond its limit of the paint has been removed then paintless dent removal will not work for you.
With the industry leading experience we have at Piedmont Dent Repair we are able to quickly determine the best service for your damaged vehicle. No dents are too challenging for our experienced and knowledgeable technicians at Piedmont Dent Repair.
We aim at ensuring you are back on the road as soon as possible which is why we work swiftly but always maintaining attention to detail for a quality finish every time.
Repair Service – Let Us Fix Your Vehicle
Hail Damage Repair – An Affordable Solution for Your Vehicle
PDR is an affordable solution for hail damage.

Our professionals are highly rated online – see our reviews!

Providing the best, top tier services to Dilworth residents and nearby areas.

Not local to Dilworth? We're mobile and will gladly come to you!
Unfortunately, many car owners have had to deal with dents caused by hailstorms on their car. Dents can be unsightly, they reduce the value of your car significantly and they can eventually become worse causing extensive damage to your vehicle.
However, you do not have to deal with hail damage on your car which is where we come in. At Piedmont Dent Repair we are renowned and highly sought after hail damage repair experts in Dilworth and surrounding neighborhoods.
The idea to hail dent repair is a simple one, but the process is a meticulous and challenging one which requires experienced experts to handle successfully. For all the residents of Dilworth this is exactly what you get with Piedmont Dent Repair. We are experienced in hail damage repair with our technicians having decades of experience in the industry.
Besides being just experienced, our technicians lead the industry in technical ability. They are highly trained and versed in the most advanced hail damage repair technologies in the industry.
Auto Body Shop – Mobile Service Available
Mobile Paintless Dent Removal – Get a Free Quote
Your search for mobile dent removal near me is finally over!

PDR is a professional, highly rated company specializing in paintless techniques for over 20 years!

Get a price quote online or by phone.

Our service is accepted by insurance companies.
At Piedmont Dent Repair we are all about giving our customers quality and convenience services. This is why we offer mobile dent removal in Dilworth. If you have dent and dings on your car you do not have to worry about bringing your car to our shop, finding a ride to work and rearing your schedule. We make the process extremely hassle free for you by coming right where you are.
Our promise for mobile dent removal is that we will restore your vehicle to the pre-accident condition it was in. We do not relent on quality workmanship whether we are working from our repair shops or not.
Our technicians are fully insured and bonded so you can have peace of mind that they are protected as they offer you services. Besides, we also have a lot of experience in mobile dent removal and have invested in a van properly equipped with our state of the art tools that allows us to work effectively from anywhere.
Auto Repair Shop – Get a Quote Today
Paintless Dent Repair – Best in Dilworth and CLT!
Professional damage assessments provided by email or in person.

Top mobile dent removal company in the area.

Proudly serving Dilworth and nearby neighborhoods.

Call today for a free estimate.

Reliable and efficient – we're there when you need us!
Are you in need of paintless dent repair? At Piedmont Dent Repair we can make your car look brand new. We restore your dented vehicle back to original condition without adding any paint on the damaged area or removing it.
Our technicians will find every available access to reach the dent using our innovative and high tech tools. When the dent has been accessed it is kneaded with a lot of expertise maintaining required form to ensure the dent resurfaces to required level. The process is meticulous and demanding up at Piedmont Dent Repair we are always up to the task.
Some of the benefits of using Piedmont Dent Repair for your paintless dent repair include; our repairs are reliable and warranted, we promise a fast turnaround time without compromising on quality, we are mobile when you need us to be, we are highly affordable and way cheaper than traditional repair shops, our quality services ensure your vehicle maintains its value.
To get the best service, it is crucial that you hire the best dent removal company in the region; Piedmont Dent Repair. We are the industry leading at dent removal in terms of process, tools and technologies.
Dilworth is Charlottes historic city with a rich history dating back to the 1890s when the neighborhood was established by Edward Dilworth as the first streetcar suburb. Streetcars were a popular mode of transport back then which made adjacent real estate desirable which led to growth of the suburb. The Charlotte Electric Railway Trolley remained a billboard for Dilworth community real estate with a billboard that read "buy a home in Dilworth for rent money" until it ceased operations in 1938.
Most of the houses to date at Dilworth are conservative Bungalows. The houses here feature beautiful front porches and the streets are lined with beautiful mature oak trees and sidewalks.
For dining, restaurants such as The Summit Room, 300 East, Bontera Dining and Wine Room, Comet Grill, and Zen Fusion serve visitors and residents alike with a wide array of cuisines.
Being a historic neighborhood, Dilworth is not short of places of interest like Latta Park dedicated to Edward Dilworth Latta, Freedom Park and II Grande Disco. Shoppers can have their take at Park square, Paper Skyscraper for gifts, Cottage Chic, Talley's Green Grocery for whole foods and Kenilworth Commons mall.
Paintless Dent Removal 2013 Chevy Silverado
Charlotte Mobile Dent Removal | Piedmont Dent Repair
Paintless Dent Repair Charlotte NC | Mobile Dent Removal
Examples of Dent Repair | Paintless Dent Repair Charlotte