Paintless Dent Repair Kings Mountain NC | We Guarantee Your Satisfaction!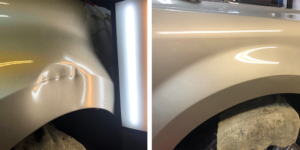 If you live in Kings Mountain, NC and you have been searching for "mobile dent repair near me" you have come to the right place with Piedmont Dent Repair.
Paintless Dent Removal CharlotteWe have learned that not every type of dent repair takes several days of garage work to accomplish. Our technicians have real experience with paintless dent removal and we can make sure that your vehicle is back in your hands in just a few hours.
As long as the area surrounding the dent does not contain any major scratches within the paint you can consider this method for dent removal. Other forms or techniques may require a bit more time and expense, but this method can be one of the easiest for the removal process.
Paintless Dent Repair in Kings Mountain NC
Paintless dent removal in Kings Mountain, NC is one of the best methods for dent repair in the area. We can even perform mobile dent repair on most vehicles using this method. Through a staff that is highly trained in the process, we can come out to your location and make an assessment, and then repair the damage on site.
Our mobile dent repair experts in Kings Mountain, North Carolina work under a 100% satisfaction guarantee. If we are unable to repair your dent to your complete satisfaction, we will pay for the cost of our services or re-repair the dent for you at no extra cost.
Whether your vehicle is coming into us after being involved in a minor accident or you require dent repair for hail dent removal, we provide fair and affordable prices for your body work. By keeping your vehicle looking its best you will avoid expensive insurance premiums, its loss in value and more. We want to deliver highly efficient services for your needs and make sure that your vehicle looks its absolute best. Our staff will provide fast and free estimates for dent repair at your convenience.
Kings Mountain is located both in Gaston and Cleveland Counties. Originally the place was called White Plains but after it was incorporated in 1874 the name was changed to Kings Mountain because of the proximity to historic 1780, Battle of Kings Mountain. The Battle of Kings Mountain was very important and was termed as the "turning point of the American Revolution" by Thomas Jefferson.
The first man to settle at Kings Mountain was W. A Mauney. Besides being the first settler he also pioneered many other activities. For instance; he opened the first store, was the first postmaster, he built the first cotton mill, he pioneered the banking business of this area and he cut most of the paths and roads through the wilderness.
Crowder's Mountain State Park is one of the most visited places in Kings Mountain. The park has several trails and a manmade lake offering different outdoor activities including hiking, camping, and fishing. There are two peaks at the park, Kings Pinnacle which stands in at 1705 feet and Crowder's Mountain.
Other points of interest in Kings Mountain include; Kings Mountain Gateway Trail, Kings Mountain Historical Museum, Patriot Park, Kings Mountain Point, The Pinnacle, Kings Mountain State Park, Kings Mountain National Military Park, Kings Mountain Visitors Center and American Military Museum of Gastonia. Millions of people visit these parks in Kings Mountain every year.
Kings Mountain occupies an area of 12.6 square miles and currently the population is estimated to be about 10,700 people.
We're Mobile – Our Paintless Dent Repair in Kings Mountain NC Crew Comes to You!
Not located in Kings Mountain? No worries … we can come to your location. Contact Piedmont Dent Repair today to find out more about our mobile dent repair. We can get your hail dent removal done quickly!