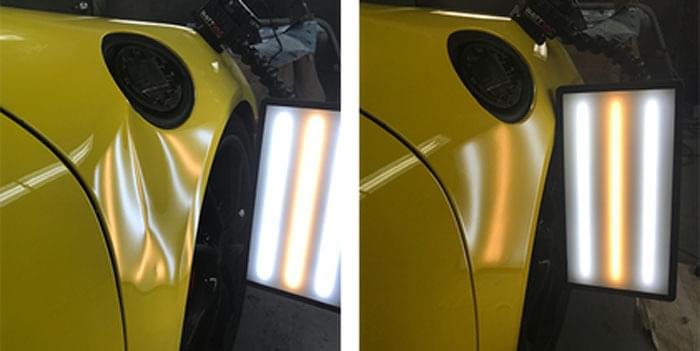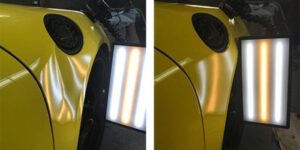 Paintless Dent Removal – Call Today!
Our mobile professionals are experts at their craft – check out our videos to learn more about the Paintless Dent Removal process.

We'll work with your auto insurance company to get you squared away.

You can't trust your vehicle to just anyone – read our reviews and find out why we're the best.
If you are in Midtown and driving your car around with dings or dents because you are worried it will cost you a fortune to repair, we have good news for you. At Piedmont Dent Repair we offer affordable and exceptional paintless dent removal services in the entire Midtown area.
At Piedmont Dent Repair we specialize in dent removal without the use of any paint. We can repair fenders, dings and dents on your car at a fraction of the cost of taking your vehicle to a traditional body shop. With decades of experience in the industry, we offer paintless dent removal services that will exceed your expectations every time.
As long as the car paint has not been removed or cracked, we can remove any large or small dents on your vehicle. We are skilled and able to handle dents that are in awkward locations on your car. Typically our paintless dent removal service takes just a couple hours for a typical medium dent. You can therefore have your car back on the same day.
The best thing with paintless dent removal is that it allows you to maintain the original factory finish of your car which is always the best quality and helps to maintain the value the car in the long run.
Furthermore, paintless dent removal at Piedmont Dent Repair is quite affordable costing you two to three times less than you would pay at traditional body repair shops.
Repair Service – Get a Quote Online
Hail Damage Repair – Mobile Services
Top notch customer service, guaranteed.

Need hail damage repair for your vehicle? Our nearby professionals are here to help.

Mobile, affordable, and highly rated. Check out our reviews on Google.

We use the best tools and industry leading techniques to repair your vehicle while preserving the original parts and paint!
Hail damage can leave hundreds of dings and dents on your vehicle. At Piedmont Dent Repair our hail damage repair is an insurance accepted process and therefore we work with your insurance provider to offer you our services. The first step to hail damage repair is by contacting your insurance provider so they can give you a claim sheet and a cheque to cater for the damages.
Our hail damage repair at Piedmont Dent Repair is meticulous getting rid of all the tiny dings on your vehicle. We use reflective techniques that help us to identify the tiniest of dings on your vehicle and then using our massage or pulling techniques we are able to remove them.
Auto Body Shop – Book your Mobile Service
Mobile Paintless Dent Removal – Call Now For an Estimate
Highly rated by insurance companies.

Providing damage estimates over the phone or in person. Get a price quote now!

Check out our reviews and see why we're the top company in Midtown CLT and nearby areas.

PDR is the easiest and best way to repair your vehicle and make it look new again without damaging the original parts or paint.
You might be busy with work or at home spending time with your family which means you do not have the time to take your car to a repair shop. At Piedmont Dent Repair we understand this quite well and therefore we come to you.
With our mobile dent removal services you do not have to go through the hassle of finding a car hire to take you to work because your car is held up at the repair shop. We send our technicians out to you anywhere in Midtown Charlotte.
They show up in marked vans carrying a complete arsenal of state of the art equipment required to get the job done quickly and effectively. Whether we work at the shop or at your home or work parking lot, our processes remain the same and therefore you do not have to worry that quality of work will be compromised.
We achieve the same level of quality results on mobile dent removal as we would when you bring the car to us. Our technicians are professionals and will work without causing any distractions to your work or personal life.
Auto Repair Shop – Specializing in PDR
Paintless Dent Repair – An Affordable Fix For Your Vehicle
You'll find our top rated mobile services to be the best around town or your money back.

Check out our Google reviews and get a free estimate for damages today!
At Piedmont Dent Repair we specialize in paintless dent repair. The team at Piedmont Dent Repair is highly skilled and experienced in paintless dent repair. Further, we have invested in state of the art PDR tools that make it possible to remove even the hardest dents on your car.
We use masterful techniques that many other paintless dent repair shops are not aware of or have not yet adopted. Paintless dent repair is a skill and one that is acquired not only due to experience but passion. We are passionate about what we do and the results we give our clients speak for themselves.
If your car has visible dents, be sure we can bring it back to near perfect condition again provided the panel is not cracked or stretched beyond repair. Depending on the location of the dent, we might have to remove the interior lining of your vehicle to access it. However, we return everything just as it was before so you never have to worry about us leaving your car in a bad state.
Midtown Charlotte is an urban district always sprawling with shoppers, runners and walkers going on their business. Midtown is home to the first enclosed shopping mall in the Southeast, the Charlottetowne Mall which was later renovated into the Metropolitan. With its urban shopping flair, you will find fashion lovers browsing for items in stores such as West Elm, SILVERFLY and Lipp Boutique amongst others.
In the mid-2000s, developers changed the master plan of the mall to include retailers, condos, offices, and chic restaurants to enhance competitiveness of the Metropolitan. Midtown Metropolitan is now a mixed building with living, retail and dining all in one area.
Most of the shopping in the area happens at the Metropolitan mall. There are also many restaurants in the mall where you can dine and bars to have drinks. Great improvements have been done to the road surrounding the area and Sugar Creek Greenway was also renovated to improve traffic and for beautification.
The green way provides a lot of information about the history of the city through plaques and statues in the trial of history.
Restaurants in the area include; Mama Ricotta's, Pisces Restaurant, Dressler's, Hickory Tavern, Chipotle, Wendy's, Zoe's, Omaggio, Vivace, and Le Macaron.
PDR Hood Repair Charlotte - Cadillac 2017 XT5
Charlotte Mobile Dent Removal | Piedmont Dent Repair
Paintless Dent Repair Charlotte NC | Mobile Dent Removal
Examples of Dent Repair | Paintless Dent Repair Charlotte