Paintless Dent Removal in Mint Hill, NC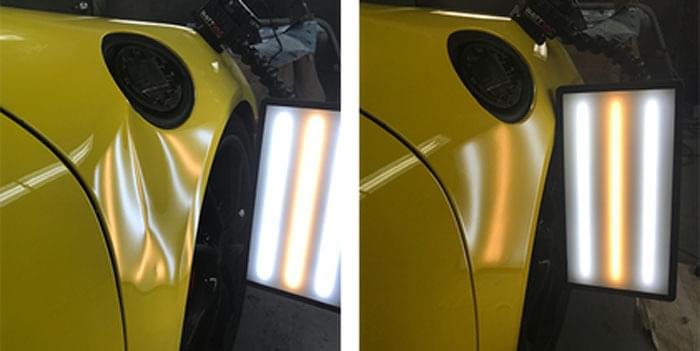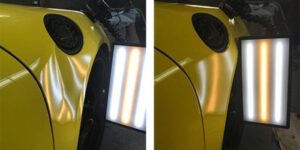 At Piedmont Dent Repair in Mint Hill, NC we specialize in the process of paintless dent removal so that you don't have to rely on costly insurance fixes for your bodywork. Many types of repairs often require your vehicle to sit in the shop for hours or even days. Using the latest in technology we can help you get back on the road quickly in Mint Hill North Carolina.
The process of paintless dent removal works effectively while avoiding compromises to the finish of your vehicle. If you have an area that has been affected by hail damage, we can provide repairs that don't require the removal of body panels or the extensive work that traditional body shops typically call for.
Our paintless hail dent removal services can even be done at a remote location. If you've noticed a dent on your vehicle, contact us immediately and we can come out to your location to assess the damage. We can complete a quote on site and then perform the mobile dent repair with your confirmation.
Mint Hill Paintless Dent Removal | Paintless Dent Repair
It's our goal to deliver industry-leading pricing and to provide you with the top experts for quick service. Our mobile repair unit is available to help with minor dents or hail damage. With the help of our skilled dent removal experts we can help you maintain the value of your vehicle and avoid the chance that you might have to pay expensive insurance premiums. However, if you desire to go through your insurance company, this method is approved.
We back our work completely as well. With a satisfaction guarantee on all of our services, it's our goal to make sure our customers leave happy. We will reattempt the correction if for some reason you are unsatisfied with the job that we complete.
PDR – Mint Hill Paintless Dent Removal
Contact Piedmont Dent Repair today for more information on our paintless dent removal services in Mint Hill, NC.
Mint Hill is a major suburban town in Mecklenburg County, North Carolina, United States. Mint Hill was first settled in 1750 and incorporated in 1890. A road dispute caused the town to be dissolved in 1910 but later incorporated again in 1971. Mint Hill was Mecklenburg's county first town.
Mecklenburg County refused to build roads in incorporated cities and Mint Hill gave up their charter so they could get roads built. Later, there were chatters of a Charlotte-Mecklenburg consolidation which cause Mint Hill to push for incorporation again in 1971 and they won.
Between 1910 and 1971, Mint Hill ran on its own, without any elected town officials but there were six citizens that served as commissioners of Mecklenburg County. The success of two stores operated by John M. McEwen and R.J McEwen & Sons caused the town center to shift from Fairview road to its present location, Lawyer's road. People looked to these stores for most of their needs including caskets, embalming and even air services.
The Carl EJ McEwen historic village is a major attraction in the town. Here visitors can step back into the history of Mint Hill and visit restored stores like County Doctor's office, Ashcraft one room schoolhouse, and the Ira V Fergusson Country store. Mint Hill library was established in 1958 and before that a bookmobile service delivered books to people in the town on a regular basis.
Other attractions in Mint Hill include: N.C Korean War Memorial, Landsford Canal State Park, Levine Museum of the New South, and Charlotte Museum of History amongst others.