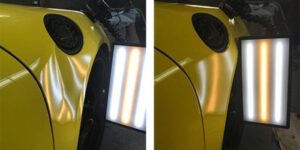 Paintless Dent Removal – Free Quotes Available!
Providing top notch, paintless dent removal throughout Myers Park and nearby areas for over 20 years

Mobile company – we'll come to you.

Free estimates provided by phone or email.

Widely accepted by insurance companies.

Check out our online reviews for proof that we're the best!
Are you in Myers Park and looking for a paintless dent removal expert? Look no further than Piedmont Dent Repair. We are here to offer all the services you might need to remove dings, dents, creases and hail damage on your car.
Our specialty at Piedmont Dent Repair is paintless dent removal. With decades of industry experience we have developed a highly successful paintless dent removal process that leaves other companies jealous. Besides our process we keep learning about new methods and technologies in the industry while we continue innovating our own products that enhance effectiveness of the process.
Whether you have dents on the doors, fenders, roof or sides of your car, at Piedmont Dent Repair we are able to access the damage on your car and determine the most effective method to get rid of the dents.
We are local to Myers Park and are there whenever you need our services. All you have to do is call or visit our repair shop. our technicians are not only friendly and professional they are also passionate about what they do and work diligently every other time.
Customer satisfaction while working with Piedmont Dent Repair is guaranteed every time with our paintless dent removal services. if you want same day services, we go above and beyond to ensure you get your car back as promised without compromising on accuracy and attention to detail. Our stand behind our quality standards and promise nothing but the best for you in paintless dent removal.
Repair Service – Call Today!
Hail Damage Repair – Learn More
Need hail damage repair for your vehicle? PDR is an affordable solution.

Reliable. Professional. Fast – Our reviews say it all.

Don't live in Myers Park? We're mobile!

Call today for top tier service from a highly rated, best in class company.
Got hail damage? You do not have to worry as bad as your car might look, at Piedmont Dent Repair we work tirelessly to ensure it regains its former glory. The process to follow to success is very simple. First contact your insurance company and file a claim. Then contact Piedmont Dent Repair to have your car repaired.
We offer high quality hail damage repair using precise methodologies and technologies that allow us to remove even the smallest ding on your car without causing any further damage to it. Our work is meticulous and methodical and therefore you get results you can rely on every time.
We have testimonials from many happy customers in Myers Park that have used our services before. Besides, we have also repaired thousands of hail damaged vehicles in the region and therefore you can be sure your car is being handled by professionals with expertise.
Auto Body Shop – View Our Mobile Services
Mobile Paintless Dent Removal – We Come To You!
Highly rated by consumers & insurance companies.

Our professionals can provide quick damage estimates over the phone. Get an accurate price quote now!

Read our reviews and see why we're the best in Myers Park and nearby neighborhoods.

PDR is the top, most affordable way to repair minor damage on your vehicle.
Do you have unsightly dings and dents on your vehicle and you would like to repair them but feel it is quite inconvenient for you? do not worry because at Piedmont Dent Repair we offer mobile dent removal services to people in Myers Park and surrounding areas. We come to you anywhere you are in Myers Park and repair your car as you continue doing what matters to you.
After you call on us we are able to come to you immediately usually within one hour. We can even give you a free estimate prior to the meet up if you send us pictures of the damage that needs repairing. Just stand about 4 or 5 feet behind the damaged part and take several pictures of the damage at a 45 degree angle. This will give our technicians enough information to give you an accurate estimate.
For all mobile dent removal services, we service our customers by individual appointment meaning we are with you whenever you want us to be. We fit into your schedule we do not make you fit in ours.
Auto Repair Shop – Get a Quote Now
Paintless Dent Removal – Call For a Quote
Top professional mobile company.

Our services are backed by a 100% customer satisfaction guarantee!

Get a free estimate for damages today.
Piedmont Dent Repair is an expert in paintless dent repair. This is the process of removing dents and dings on your vehicle of motorcycle without using paint. We only use special tools, methods and techniques but painting is never done.
Paintlless dent repair doesn't cost as much as conventional body repair does. This is because there are no paints and fillers being used and it doesn't take long to complete. With Paintless dent repair your car maintains the original factory paint and hence it retains its value for long.
Our paintless dent repair service is used for small to large dents. You can view the videos or before and after photos on this site to find out more.
With decades of industry experience, Piedmont Dent Repair is committed to offering paintless dent repair services where high quality work is required. We promise our customers to return the vehicle to the pre-accident condition every time.
We have repaired hundreds of vehicles in Myers Park and we can help you too if you have been wondering what to do with your dented car.
Myers Park is an affluent residential district located about a mile from Uptown. Locals recognize the place for its elegant homes, beautiful parks, nationally recognized schools, upscale shopping and eating, dining and entertainment facilities. Homes at Myers Park sit adjacent to picturesque streets lined with mature oak trees and paved sidewalks.
Myers Park sits on 2,200 acres of land next to the John Spring Myers Farm. Besides the picturesque charm that causes many people to stay and fall in love with the place, it is also full of places of interest for those that want to visit. Some of the sites of interest in the area include; Theater Charlotte, Manor theatre, Duke Mansion, Little Church on The Lane, James Buchanan Duke House, Christ Episcopal Church, and Edgehill Park.
Myers Park is known for chic restaurants including; Napa on Providence, Good Food on Montford, Mellow Mushroom, Stagioni, Providence Road Sundries and Fenwick's Restaurant. Residents can enjoy a variety of cuisines right in their backyards.
For shopping, residents and visitors to Myers Park can take advantage of the Myers Park Center and many others close by.
Charlotte Mobile Dent Removal | Piedmont Dent Repair
Paintless Dent Repair Charlotte NC | Mobile Dent Removal
Examples of Dent Repair | Paintless Dent Repair Charlotte