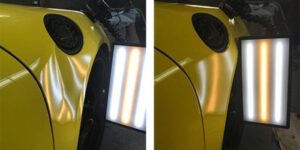 Paintless Dent Removal – Call For a Quote!
Mobile Paintless Dent Removal and free estimates available.

Providing top notch, professional auto body repair services throughout NoDa and nearby areas for over 20 years!

PDR is an affordable solution, whether you have insurance or not.

No need to google "paintless dent repair services near me" … you've already found the best! Check out our reviews.
For most people a car is a priced investment that you want to have in pristine condition for as long as possible. However problems like dents and dings on your car can really accelerate the loss of value on your investment. If you have noticed dings and dents on your car from whatever cause then it is time to call on Piedmont Dent Repair. We are a renowned paintless dent removal expert in NoDa.
The original factory painting on most vehicles is flexible and therefore it allows for dents and dings to be repaired without the need for repainting, depending on the depth and location of the damage. Paintless dent removal is ideal for all types of dents where the panel has not been stretched beyond limit and therefore the paint is not cracked or removed.
With decades of industry experience, the technicians at Piedmont Dent Repair represent the pinnacle of professionalism when it comes to paintless dent removal. We understand that when a customer hands us the key to their vehicle, they are also giving us their trust and therefore we go above and beyond not to disappoint.
We do not take our job lightly and everything our technicians do is done with professionalism and keen attention to detail. To this end therefore we are happy to give our clients a lifetime warranty on our paintless dent removal services.
Repair Service – Contact PDR Today!
Hail Damage Repair – Free Estimates
Dealing with vehicle hail damage? Contact our local professionals for help.

We're mobile, affordable, and highly rated. Check out our reviews on Google.

Top-tier customer service, guaranteed!

We use best, industry-leading tools and techniques to repair your vehicle, while preserving the OEM parts and paint!
We use paintless hail damage repair to correct hail damage on vehicles. We use this technique when repairing indentations and strikes that have not stripped paint from the vehicle. Usually this is what happens most of the time. After a hail storm you will find your vehicle with many small indentations that have not stripped the paint of the vehicle or scratched it.
When this is the case then our paintless hail damage repair becomes effective at removing dents without the need to paint. We find access to the inner side of the panel and using specialized tools we massage the panel slowly applying required pressure to remove the dent.
This process continues until all of the dents on your car have been removed even if it was hundreds of them. Further, we use reflection technology where we shine light on the area affected to identify whether the dent has been removed to the required level using shadows.
Auto Body Shop – We're Mobile!
Mobile Paintless Dent Removal – Get a Quote Online!
Approved by insurance companies.

Our highly rated professional techs can provide accurate damage estimates by phone or email. Get a price quote today!

Check out our reviews and see why we're the best in NoDa and nearby areas.

PDR is a top affordable way to repair any minor dents on your vehicle.
Mobile dent removal is a great service when you really need dent removal for your car but do not want to go through the inconveniences of hiring cars to get you to work or even driving your car to our repair shop.
At Piedmont Dent Repair we offer hassle free and convenient mobile dent removal services where we come to you and work from wherever you are. To get our mobile dent removal services you just have to call our work phone and we will respond ASAP.
We can reach you regardless of where you are in NoDa and our services will not cost more when we come to you. Even with our mobile dent removal services you are still assured of the same high quality our customers in the region have come to expect of us.
We come to you fully prepared to offer our services and with everything required to do it right. Our process is simple and we work on your schedule not ours.
Auto Repair Shop – Get a Free Estimate
Paintless Dent Removal – Call Now
Top rated mobile services.

100% Satisfaction Guarantee!

Get a free professional damage assessment and estimate today!
Vehicle technology is always evolving and at Piedmont Dent Repair we provide ongoing training for our technicians through I-CAR to ensure that they are a step ahead of your paintless dent repair needs. Whether you have a new car model or an old one, our technicians have the expertise to work on your vehicle and restore it to pre-accident conditions.
We are not only focused on giving you service that exceeds your expectations we also put our customers first and our team is always focused on creating a better experience for you. we provide free honest and accurate estimates for paintless dent repair services.
Further, once your vehicle is in our hands, our service advisors will keep in touch with you regularly informing you on the progress so far. However, at Piedmont Dent Repair we have the expertise and tools to work quickly and that is what we do.
We understand that in this industry trust is earned one vehicle at a time which is why we are always committed to offer the most exceptional service each time. our workmanship at Piedmont Dent Repair is backed by a lifetime warranty for you.
NoDa is short for North Davidson, a neighborhood in Charlotte that is the city's art and entertainment center. The residents of NoDa are dedicated to promoting arts by their lifestyle and businesses. Here you will find a lot of talented artists and musicians.
Restaurants in NoDa where you can enjoy dining include; Billy Jack's Shack, Boudreaux's, The Bodega, Benny Pennello's, Crepe Cellar Kitchen & Pub, Cabo Fish Taco, Haberdish, Local Loaf, The Red House Café, Smelly Cat Coffee House and Sabor amongst others.
If you want to get inked, there are master artists for exceptional tattoos at Canvas Tattoo Gallery, 510 expert Tattoo, The Ink Lounge and Fu's Custom Tattoo. You can experience the full NoDa life through the many art galleries, crossfit centers and yoga places. You can collect interesting souvenirs from around the world at the Pura Vida Worldly Art or enjoy an afternoon out with your pet at the dog bar.
NoDa is active at night also with many places where you can enjoy music, drinks and craft beer.
Charlotte Mobile Dent Removal | Piedmont Dent Repair
Paintless Dent Repair Charlotte NC | Mobile Dent Removal
Examples of Dent Repair | Paintless Dent Repair Charlotte