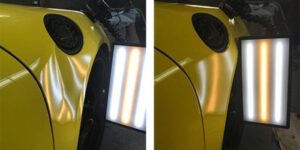 Paintless Dent Removal – Get a Quote
No insurance? No problem! Our paintless dent removal is affordable.

If you choose to go through insurance, we'll make the process quick and easy.

Read our reviews and find out why we're the best in Plaza Midwood and nearby areas.

Top notch customer service guaranteed!

Our mobile reps are happy to give an estimate by phone or in person at your location.
If you are in Plaza Midwood and need paintless dent removal services then you are in the right place. Piedmont Dent Repair is the professional company you should talk to for removal of those dents, dings and creases on your car without any painting.
At Piedmont Dent Repair we are committed to offer quick and reliable paintless dent removal services to get rid of dents and dings your car is likely to receive on a day to day basis. Removing dents using the paintless dent removal process can help maintain optimal value of your car keeping it clean, smooth and shiny every day.
Our team of technicians at Piedmont Dent Repair comprises of highly trained and certified personnel that are passionate about cars. We only want to see immaculate rides zooming past Plaza Midwood roads. However, do not let those cart accidents at the supermarket get you down.
For a long time, people have thought of repairing dents and dings on their cars as expensive and time consuming, but, not anymore. At Piedmont Dent Repair we offer high quality paintless dent removal that is affordable and quick. Fixing dents sooner rather than later actually helps in the long run by avoiding further damage to your paint job.
We choose the right paintless dent removal process to use depending on the location of the dent, the size and how deep it is.
Repair Service – Contact Us Today!
Hail Damage Repair – Call Today!
Has your car been damaged by hail? Our nearby professionals are here to help.

Mobile. Affordable. Highly Rated. See our reviews on Google.

Best customer service, and 100% satisfaction guaranteed!

We use top tools and industry-leading techniques to repair your dents.
When hailstorms occur there is a lot of damage that happens to vehicles and mostly in form of dents and dings. When this happens you should call on Piedmont Dent Repair for trusted and reliable hail damage repair.
Our paintless hail damage repair process ensures that we can remove dents on your car caused by hail without painting your car. Usually, manufacturers give a factory paint warranty on their vehicles. If this original finish of the vehicle is disturbed in any way then the warranty is voided.
If your car has been dented and you want to retain the warranty on it after repairs then paintless hail damage repairs from Piedmont Dent Repair is the way to go. We strive to offer you the best quality services in the fastest possible turnaround time.
We know how disturbing it can be when your car is damaged by hail and therefore we make our services affordable and easily available to you.
Auto Body Shop – Call For Mobile Services
Mobile Paintless Dent Removal – Free Estimates by Phone or Email
Accepted by top insurance companies everywhere.

Our highly rated professional experts can provide damage assessments and give free estimates over the phone. Get a price quote now!

Check out our reviews and find out why we're the best in Charlotte and nearby areas.

Paintless Dent Removal is one of the top ways to repair minor damage or dents on your vehicle.

Call today to get a quote!
Sometimes, dropping your car off at a shop can be a hassle. We take this hassle off your plate by bringing our services to you. Call on Piedmont Dent Repair today to enjoy mobile dent removal services. Usually we are able to accommodate same day appointments and we will show up when you want us to. We change our schedule so you do not have to touch yours.
This hassle free process starts with only a phone call and everything else moves on smoothly and swiftly getting you back on the road quickly. We are committed to offering our customers the most convenient and effortless experience possible.
When we come to you, we offer a free inspection of your vehicle onsite and give you an honest and accurate estimate. We will then give you some repair recommendations that you can trust and soon after the process kicks off. Other times we are able to give you estimates on the phone if we have clear photos of the damage on your car. Either way we are only committed at giving you superior service in the most convenient manner.
Auto Repair Shop – We'll Come To You!
Paintless Dent Removal – Highly Rated in Plaza Midwood!
Our PDR company has the best reviews on Google!

Offering top tier mobile, professional services and a 100% customer satisfaction guarantee!

Get a free estimate for damage today.
When it comes to paintless dent repair in Plaza Midwood no one does it better than Piedmont Dent Repair. Our technicians utilize our proprietary processes to preserve the integrity of the original paintwork of your car which will retain the value.
Our technicians are able to complete paintless dent repair for vehicles of all makes, models and age. Our process is good for removing creases, dents, dings and any superficial damage to your car that has not scratched off the paint work.
The latest technologies in paintless dent repair in the industry and some of our own enable us to bring to you superior dent removal services. We ensure that your car goes back to the condition it was before the damage and we do this quickly.
For our paintless dent repair services, we offer a lifetime warranty. This means that if you are unsatisfied with the work that was done or the dents recur on their own after some time then we do the job right for you free of charge.
Plaza Midwood is located just one mile North East of Uptown in Charlotte, North Carolina. Plaza Midwood is known to be an eclectic and lively place full of funky galleries, funky stores, tattoo parlors and graffiti clad buildings.
Plaza Midwood was first established in 1910 as a streetcar suburb of Charlotte. The boundaries to the neighborhood were established in the 1970s after two distinct hubs The Plaza and Midwood had already become one.
Restaurants in the area include; Midwood Smokehouse, Krazy Fish, Euro Grill & Café, Bistro La Bon, Pure Pizza, Soul Central, and Akahana amongst others. For shopping you can try out; Boris and Natasha, Moxie Mercantile, FROCK shop, CLTCH, Green With Envy, Buffalo Exchange, Summer Bird, The Rat's Nest and the Epic Center.
If you are looking for entertainment for the entire family, the Codescape amusement center is right there for you. For a day full of outdoor experiences like sports, playgrounds for kids and splash pads visit Veterans Memorial Park.
Paintless Dent Repair in Charlotte - '13 Toyota Rav 4
Charlotte Mobile Dent Removal | Piedmont Dent Repair
Paintless Dent Repair Charlotte NC | Mobile Dent Removal
Examples of Dent Repair | Paintless Dent Repair Charlotte