Paintless Dent Removal Salisbury NC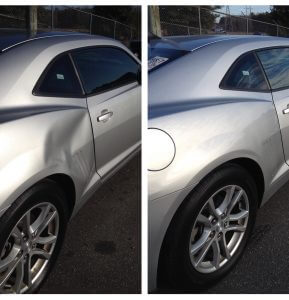 The process of our paintless dent removal techniques in Salisbury NC is replacing the need for more serious bodywork in many cases. Rather than a vehicle needing to be admitted to a garage or requiring the use of body panels being removed to fix a simple dent, there are new tools and techniques that can bring down the cost of most bodywork.
Dent Removal Salisbury, NC
Paintless dent removal utilizes simple techniques and the preserves the original finish on your vehicle to reduce the look of damage and to bring down the cost of repairs considerably. The results are spectacular and the cost is just a fraction of traditional bodywork.
What makes this service even more compelling is that it can be performed almost anywhere. Companies like Piedmont Dent Repair can perform mobile dent removal in Salisbury, NC at rates that are considerably cheaper than what you would expect to pay to bring your vehicle into a garage. Offering prices that are affordable, along with current industry standards and quick results, you won't have to worry about your vehicle being stuck in the garage for an entire day, just for minor repairs.
The process of mobile dent removal can be very easy. When you call us, a technician will arrive at your vehicle and assess the damage. If the dent is deemed a good candidate for our process, it will be performed at the quoted cost that the technician provides and in just a short time. Technicians here at Piedmont Dent Repair really vouch for their work as well. We offer a satisfaction guarantee on all labor! We will perform a secondary repair if you are unsatisfied with the results.
Get a Quote on Dent Removal Salisbury NC
If you would like a quote on mobile dent removal due to hail damage or a minor collision today, contact the experts at Piedmont Dent Repair serving Salisbury, NC. Our team is here to have your vehicle fixed within just a few hours of you calling.
Salisbury is located in the Piedmont of North Carolina. It was founded in 1753 and is the County Seat of Rowan County. Salisbury was incorporated in 1755 and is presumably named for the city of Salisbury in Wiltshire, England. Originally, the city was home to Native American people including the Catawba but the Scotch-Irish and Germans settled in the area in the 1740s.
Salisbury is noted for its historic preservations. The city has five local historic districts and ten national register historic districts with over 1200 contributing properties. The city still has many historic homes and commercial buildings dating back to the 19thcentury to the early 20thcentury.
Many visitors to Salisbury NC, enjoy taking the walking tour through the Salisbury History and Art trail that has markers throughout the city and art for self-guided tour. In the tour visitors are taken through the history of Salisbury by visiting properties and seeing important historic artifacts like the desk used by President Andrew Jackson when he was studying law in the city.
Salisbury is home to renowned colleges and universities including; Rowan-Cabarrus Community College, Catawba College and Livingstone College. The current population at Salisbury NC is estimated to be 33,849 people in a total land area of 17.8 square miles.
Some attractions and places of interest in Salisbury for visitors and locals alike include; Rowan Museum, Piedmont Players theatre, Dr. Josephus Hall House, Old Stone Winery, N.C Transportation Museum, Boone's Cave Park, Salisbury Community Park, Dunn's Mountain Park, Confederate Prison Site and Salisbury Civil War Prison.