Dent Repair Shelby, North Carolina | Paintless Dent Removal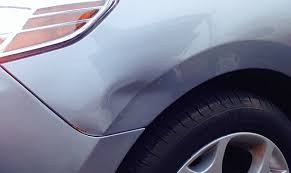 Piedmont Dent Repair is located outside of Shelby NC and remains the most reliable source of paintless dent repair in Charlotte, North Carolina for mobile dent removal. Piedmont Dent repair in Shelby has years of experience providing auto repairs with a satisfaction guarantee for our work. If you become involved in a minor accident or your vehicle has become the victim of hail damage, our staff can perform paintless dent repair to get your vehicle back to its original condition.
An auto repair service doesn't have to take days or tie up your vehicle and the body shop over extended hours. Most modern paintless dent removal techniques can be performed even using a mobile setup.
Dent Repair Shelby NC | Best Paintless Dent Repair & Hail Damage Removal
Our skilled technicians can remove a wide range of dents from almost any type of vehicle. As long as the paint is still preserved in the area of the dent it may qualify for our procedure. We can come out and perform mobile dent repair Shelby, NC. This is where we arrive at your location and provide you with an on-site quote for the removal process. Performing any small vehicle body repairs at your place of work or at home can be an extremely convenient way to handle your bodywork.
If you have been on the search for a "mobile dent repair near me" in the Shelby area, or just dent repair Shelby, we are a group of highly skilled technicians that can perform repairs under a completely free estimate. We offer a 100% satisfaction guarantee on any service.
Dent Repair Shelby NC | Experienced Mobile Paintless Dent Repair Near Me
Dent repair Shelby from our company can help you avoid costly insurance premiums and maintain the value of your vehicle; it can also ensure that you get back into your vehicle much faster than with the competition. Mobile dent removal services such as ours will help to keep your vehicle looking its best. Check out this video to see how:
Paintless Dent Removal Services:
Paintless Dent Removal Services | Highly Rated Dent Repair Shelby
We can perform a wide range of dent repair Shelby from fixing up hail damage to quick repairs after minor accidents. With our fast, efficient mobile services, you'll be back into a pristine looking vehicle in no time!
 More About Dent Repair Shelby, NC
The City of Shelby, was incorporated in 1843 and is named for Colonel Isaac Shelby who was a revolutionary war hero at the Battle of Kings Mountain which happened close by. Shelby is located in south central Cleveland County and is the county seat. Currently the population of Shelby city stands in at approximately 20,000 people occupying a land area of about 21.1 square miles.
The civil war interrupted the growth of Shelby with most of the local men serving in the Confederate Forces. These Federal Troops occupied the Courthouse Square after Lee's Surrender at Appomattox, Virginia in 1865 and marked the beginning of reconstruction of the city.
To this day the Uptown central business district is a registered historic district by the US Department of Interior and is one of the most beautiful courthouses in the southeast. Shelby is still a courthouse town but the population is more diverse. The town center features historic buildings and tree lined streets, great for taking a walk.
Citizens of Shelby NC began organizing a heritage based effort in this century which has resulted in the opening of the Don Gibson Theater and the crown jewel of the city, the Earl Scruggs Center to honor two great natives who became leaders in the national music scene.
The Earl Scruggs Center celebrates the life of Bluegrass Banjo and Earl Scruggs and is well worth the visit when you are here. At the Don Gibson Theater there are many opportunities to enjoy music and entertainment all through the year.
Contact us today to learn more dent repair Shelby, NC.
Charlotte Mobile Dent Removal | Piedmont Dent Repair
Paintless Dent Repair Charlotte NC | Mobile Dent Removal
Examples of Dent Repair | Paintless Dent Repair Charlotte