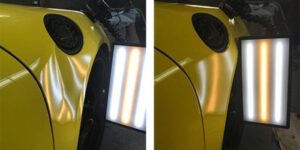 Paintless Dent Removal – Contact Us Today!
Accepted by top auto insurance companies.

Professional damage assessments for paintless dent removal by email or in person.

Best reviews online – search nearby to see for yourself.

Call for a free estimate / price quote today!
If you are keen on South End roads, chances are you have seen someone driving around in a car with unsightly dings, creases and dents on it. Maybe, this is even your situation but it doesn't have to be. At Piedmont Dent Repair we offer paintless dent removal that is quick and affordable.
Paintless dent removal involves getting under the "skin" of the vehicle and massaging the dent to remove it without removing or adding any paint on the car. This means therefore that your car maintains its value for long by maintaining the original factory paint.
Why should you depend on our services at Piedmont Dent Repair? First we are very affordable offering you significantly cheaper services than would cost to repair the car at a traditional body works shop. Also, our services are quick. In most cases you will have your car back in the same day.
Our professional paintless dent removal service also maintains the value of your car by ensuring the original point is not removed during repair and by removing dents on your vehicle.
Our services are insurance industry accepted and therefore you do not have to pay any cash from your pocket when getting services from us. If the insurance company gave you money that is less than what is required for the service, we will write them a supplementary indicating all the services offered so they can add on the claim benefits.
Repair Service – Learn More
Hail Damage Repair – Free Estimates By Phone Or Email
Best nearby repair company for auto hail damage – reead our reviews online!

Affordable, professional service, guaranteed.

Not located in South End? Don't worry, we're mobile!

Trusted and highly rated by car owners all over town.
Too often we are unable to escape nature's wrath on our vehicles especially during hailstorms. When hail strikes your vehicle it causes cosmetic damage that can become extensive damage if you do not take time to have it repaired. Also, hail damage makes your car look very unsightly and beaten lowering its value significantly.
At Piedmont Dent Repair we understand the frustration of hail damage and therefore we work with precision and patience using the latest techniques and equipment to ensure your car is restored back to pre-accident conditions.
Our technicians at Piedmont Dent Repair receive continual cutting edge training which when used in tandem with ever evolving vehicle technologies gives us the upper hand at eliminated all dings and dents on your car after hail damage.
If your car has been damaged by hail bring it Piedmont Dent Repair and it is our promise that we will work on it diligently for results that exceed your expectations.
Auto Body Shop – Specializing in Mobile PDR
Mobile Paintless Dent Removal – Get An Instant Quote!
Need a price quote for mobile dent removal? Contact our highly rated experts today!

Providing services to the CLT South End neighborhood and nearby areas.

No insurance? No problem. Our rates are affordable.

PDR methods are widely accepted by top insurance companies.

Cost estimates provided by phone or email.

Read our reviews online to find out why we're the best.
At Piedmont Dent Repair we can come to you when you need our services. Just call on us and we will be with you anywhere in South End in under one hour. Whether there is damage on the roof, fender bumper, door or any other part of your vehicle that is accessible for paintless dent removal we will be there to help you.
We have worked numerous mobile dent repair jobs in South End and therefore you can be sure you are dealing with a professional and reliable company. Most of our repair services do not take too long because we have invested in the right equipment and we come fully prepared. That is unless the damage is extensive requiring a lot of work.
Auto Repair Shop – Get a Quote Online
Paintless Dent Removal – Highly Rated in CLT!
Professional mobile services for hail damage and minor dents.

Listed among the top, highly rated companies online.

Offering a best in class customer experience.

Need an affordable fix nearby? PDR is for you!

Find out what your price would be by calling us today for a free estimate.
Is your vehicle suffering cosmetic damage through creases, dents and dings and you are wondering how much it would cost to have it repaired? Bring it to Piedmont Dent Repair and we will do a comprehensive inspection to give you the most honest and accurate estimate that will not change whatsoever. Our estimate is given free of charge and you are under no obligation to have your car repaired with us.
However, we strongly advise you to consider Piedmont Dent Repair for paintless dent repair of your car. We have decades of industry experience carrying out paintless dent repair and therefore we are better placed than most other companies to offer you exceptional service.
We are passionate about our work and aim at offering the best services to our clients every time. We are leaders in innovation, technologies and techniques used in paintless dent repair. At Piedmont Dent Repair we continue to set the standards in paintless dent repair.
We get you back on the road as quickly as possible, usually in just hours, not even days. Our swift work doesn't compromise on the quality of work done.
Dubbed the heartbeat of Charlotte, South End is known for a bustling nightlife with a number of craft breweries and laid back pubs. Some of the best places to hang out in the area include; Leather and Lace SouthEnd, Slate Charlotte, Tyber creek Pub, The Gin Mill, Brass Tap and Apostrophe Lounge to mention but a few.
The area has seen a lot of growth in the recent years with a lot of condos and new homes coming up to meet the demand for housing. A lot of shopping at South End is done at the Atherton Mill shopping mall which is located in an 1800s mill building. This is reminiscent of the rich history of South End that dates back to the 1850s when the first railroad passed through the area connecting Charlotte to Charleston and Columbia.
Restaurants at South End include; Leroy Fox South End, ROOTS café, Tupelo Honey, Luciano's Ristorante Italiano, O-Ku, Futo Buta, Seoul Food Meat Company and Yamazary Sushi & Sake.
South End is host to many special events and festivals that keep visitors and locals entertained throughout the year.
Mobile Dent Repair 07 Mazda cx-7
Charlotte Mobile Dent Removal | Piedmont Dent Repair
Paintless Dent Repair Charlotte NC | Mobile Dent Removal
Examples of Dent Repair | Paintless Dent Repair Charlotte