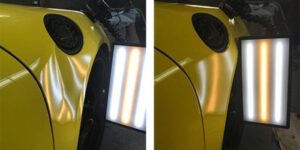 Paintless Dent Removal Service – Top Rated Company!
Mobile technicians available 6 days a week.

Providing the top professional auto dent repair services in the SouthPark area and nearby for over 20 years!

Accepted by insurance companies.
At Piedmont Dent Repair we use advanced technology to ensure that your vehicle is fully restored to premium condition leaving the surface as smooth and seamless as possible. We serve the entire SouthPark neighborhood and surrounding areas too. Here are our services;
Paintless dent removal (PDR), a service you can enjoy at Piedmont Dent Repair, is a superior process to traditional body work for removal of dents and dings regardless of the cause. This is because this process returns your vehicle to its original condition without repainting.
The major benefit to this is that your car maintains its value since repainting causes depreciation. Also, the repainted finish is usually not as durable as the original paint of the vehicle. Further, PDR costs much less than traditional body dent repair.
At a traditional dent repair shop, your car is sanded, filed and repainted, a process that is intrusive and harsh to your vehicle. For most kinds of dents, this process is unnecessary. If you have dents on your vehicle reach out to Piedmont Dent Repair today to enjoy all these benefits of paintless dent removal.
Our technicians are experienced, trained and certified by I-CAR on paintless dent removal services.
Repair Service – Call Today!
Hail Damage Repair – Free Estimates Available
We're the answer to your search for a "professional hail damage repair expert near me".

Affordable, mobile, and highly rated – check out our reviews.

Best customer service guaranteed!

PDR is a top rated way to fix minor dents on your vehicle.
If your vehicle has been hail damaged, bring it to Piedmont Dent Repair. We are experienced and experts at hail damage repair. Our highly trained and certified technicians have been handling hail damage and paintless dent repair for decades now.
We make it pretty easy and affordable to get the hail damage repairs that you need. We work directly with any insurance company in the region to take care of your claim promptly and hassle freely for you. We get your vehicle back to you in just a couple of days if it needed extensive hail damage repair. For minor repairs you have your car back in just a couple of hours.
We specialize in paintless hail damage repair to make your vehicle look like it looked before the hail damage. With our methods and experience we are able to repair your vehicle faster than our competitors and to better conditions than you even imagined.
Auto Body Shop – Mobile Service Provided
Mobile Dent Removal – Get a Quote
Highly rated by insurance companies.

Our nearby professional experts can give accurate damage estimates over the phone.

Our affordable prices will surprise you – get a quote now!

Read our reviews and see why we're the best in the South Park area.

PDR is the top, most affordable way to repair minor damage on your car, truck or SUV.
Can you imagine a world where your car repairs are carried out at your convenience whether at home or at work? Well, that world is already here with Piedmont Dent Repair. We offer mobile dent removal services where we remove dents and dings from your vehicle from wherever you are.
No need to come to us because when you call we will come to you regardless of where you are in SouthPark. Furthermore, we will be there in the shortest time possible usually just under one hour. This means that it is possible to get the same day service even with our mobile dent removal services.
Our mobile dent removal services are the same superior quality services but with the most effortless experience ever. The service is customized to provide the best client experience possible.
We help you avoid further damage to your car, we save you money and the hassles of having to reschedule your days to repair your car. We do not want the experience to add to your stresses. If you are looking for the most hassle free mobile dent removal experience, contact us today.
Auto Repair Shop – Get a Free Quote
Paintless Dent Repair – Call Now!
Professional mobile services.

100% satisfaction guaranteed!

Our top-rated company has the best reviews on Google!

Get a free damage estimate today.
If you are in need of paintless dent repair in SouthPark, then get the services you need without paying more than you should at Piedmont Dent Repair. Our certified and highly trained technicians are capable of restoring your vehicle without damaging your paint or busting your budget.
We do not use any chemicals in the process so the process is environmentally friendly. Our paintless dent repair can be used on door dents, ding, hail dents and any other kinds of dents and dings on your vehicle that are not too deep.
We work with all insurance companies if you need to make a claim. We have a great team of advisors who will not only guide you on the claim process but will also help you every step of the way until you get your claim settled.
Our services are quality and top notch therefore they are accepted by the insurance industry. You do not have to worry therefore that getting paintless dent repair services from us can raise your premiums because it cannot.
SouthPark is the place to be in Charlotte when you are looking to make merry in the finer things in life. SouthPark is the upscale neighborhood in Charlotte with the crown jewel of the place being the SouthPark Mall which derives its name from the neighborhood.
At nearly 1.8 million square feet, SouthPark Mall is the biggest shopping mall in Charlotte and all of North Carolina. The mall features luxurious shopping stores including Nordstorm, Macy's Lucky Brand, Beforever, Peter Miller, amongst other luxurious brands. Besides shopping at the mall, people also enjoy upscale shopping in independent fashion centers like Phillips Place and Morrison Shopping center.
SouthPark also features posh bars at which young professionals in the region are known to hang out. The dining scene features French cafes, sushi, pizza and American cuisines in places such as; Baoding Restaurant, Dogwood Southern Table & Bar, Harper's Restaurant, BAKU restaurant, Café Monte, Maggiano's Little Italy, Original Pancake House, Nick's Café and The Palm Charlotte amongst many others.
If you are looking for things to do you can hop in the funny bus and enjoy some comedy, visit the Symphony Park, enjoy nature at the Wing Haven Gardens & Bird Sanctuary or even spend the day enjoying a variety of activities at Carowinds Theme and waterpark.