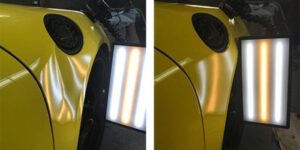 Paintless Dent Removal – Free Estimates Available!
Highly rated company nearby, serving all of Charlotte!

Best technicians in the area.

Professional paintless dent removal guaranteed.
When you have creases, door dings, hail damage and even minor collision damage, Piedmont Dent Repair in University City is the go-to repair shop for paintless dent repair. Our services include:
Paintless Dent Removal
At Piedmont Dent Repair we are committed to our services and offer paintless dent removal that exceeds your expectations. Paintless dent removal (PDR) is a craft that takes thousands of hours of practice to learn and with our experience we have mastered techniques that ensure effective and quick repair to your car.
Our paintless dent removal process is quick, highly affordable and the least intrusive method for dent repair. We have adopted an exceptional PDR process that has made Piedmont Dent Repair the leading Paintless dent removal company in University City and the entire Charlotte City.
PDR is being a craft is always a learning process and at Piedmont Dent Repair we are always in the forefront to revolutionizing how PDR is done not only in our company but also in the industry. Our dedication to technology and continuous innovation achieved due to the passion we have in our work, has helped Piedmont Dent Repair earn its position as a leader in paintless dent removal.
If you are looking to retain the value of your car if it has dents then bring it to Piedmont Dent Repair. We will work on it quickly and perform affordable but insurance industry accepted repairs on your vehicle.
Repair Service – Contact Us Today!
Hail Damage Repair – Get a Quote By Phone Or Email
Need an estimate for hail damage repair? Look no further!

Our company is highly rated – read our reviews to find out why we're the best in the UNCC area!

Not located nearby? Don't worry, we're mobile.

Top notch, professional service guaranteed.
When a hail storm hits, it can be impossible to avoid damage to your house or car. However, getting hail damage repair is quick, affordable and reliable with Piedmont Dent Repair. We specialize in repairing vehicles that have been hit with hail.
We endeavor to return your vehicle to its original factory condition after hail damage. with Piedmont Dent Repair you can rest assured that you vehicle is in safe hands. Your satisfaction is 100% guaranteed and with us it comes with a written lifetime guarantee so you do not have to worry that the dents and dings will appear or some will be left behind.
Every tiny ding on your car will be taken care of and after we are done with it you will see your ride regain its former glory. Our technicians are highly trained, passionate and use the latest innovative techniques to handle hail damage repair on your vehicle.
Auto Body Shop – Call For Mobile Services
Mobile Paintless Dent Removal – Located Near UNCC and Serving All Of Charlotte!
Our highly rated PDR method is widely accepted by insurance companies.

More affordable than conventional methods of dent removal.

Wondering about price? Call now for a free cost estimate.

We can provide a quote for your needs over the phone or by email.

Find the top professionals in town at Piedmont Dent Repair.

Read our reviews to learn why we're the best nearby.
Regardless of wherever you are in University City, we provide mobile dent removal where we will come to your place or wherever you are and repair your car. We have a fully equipped mobile van from which our technicians have access to everything they need to perform an immaculate job on your car.
We work swiftly and with a lot of professionalism regardless of where we are working from so we are never in your way. The quality of our work is guaranteed in mobile dent removal too.
When you call on us, we show up wherever you are in University City in less than one hour. Our mobile dent removal services are suitable for getting rid of creases, dents, and dings on your car. Whether they are at awkward places or not, we are able to get to them and remove them effectively.
We come fully prepared and we get things right the very first time we come to you.
Auto Repair Shop – Specializing in Mobile PDR Services
Paintless Dent Removal – Highly Rated in CLT!
Find our top professional mobile service technicians near UNCC.

Our technique is backed by a 100% customer satisfaction guarantee!

Professional damage cost assessment experts available by phone or email.

When you're in a pinch and need an estimate fast, call us right away!

Best reviews online – just Google "paintless dent repair near me" and see for yourself.
Paintless dent repair offered at Piedmont Dent Repair is a meticulous and specialized process requiring not only skill but also specialized equipment to perform successfully. At Piedmont Dent Repair we have mastered the art after many years of being in the industry and invested in state of the art equipment some of which we have innovated ourselves.
Quality paintless dent repair requires accuracy, precision and patience. At Piedmont Dent Repair our technicians are not only highly trained they are also passionate about what they do so you can rest assured that your car will be in the safest hands in the region.
We ensure continued training for our technicians to adopt the latest paintless dent repair methods and techniques. At Piedmont Dent Repair we promise to maintain the value of your car, deliver a fast turnaround time without compromising on quality and stand by our work with 100% lifetime guarantee.
More about University City
Locally known as U-Town or University Area, The UNCC area in Charlotte North Carolina is home to University of North Carolina at Charlotte Campus. It is located just at the edge of the city predominantly along University City Boulevard and WT Harris Boulevard.
University City is also home to the University Research Park, one of the largest research parks in the state. For furniture shopping, University City is home to the only IKEA store in the Carolinas.
Being that it is home a university; the city is also home to a lot of brains which explains why over 20 fortune 500 companies have their offices in University City. The city is lively and bustling with activity with that college-town spirit experienced in the neighborhood.
On football weekends you will find the streets crowded with supporters of the Charlotte 49ers headed to Jerry Richardson Stadium to cheer for their team. You can experience the outdoors at reedy Creek Nature Center and Preserve. Hike through the trails or go bird watching.
Restaurants in the area include; Panda Express, Blaze Pizza, Hwy 55 Burgers, Shakes & Fries, Bonchon, Le Kebab Grill, and Jason's Deli while shopping is mostly done at Shoppes At University Place.
Charlotte Mobile Dent Removal | Piedmont Dent Repair
Paintless Dent Repair Charlotte NC | Mobile Dent Removal
Examples of Dent Repair | Paintless Dent Repair Charlotte