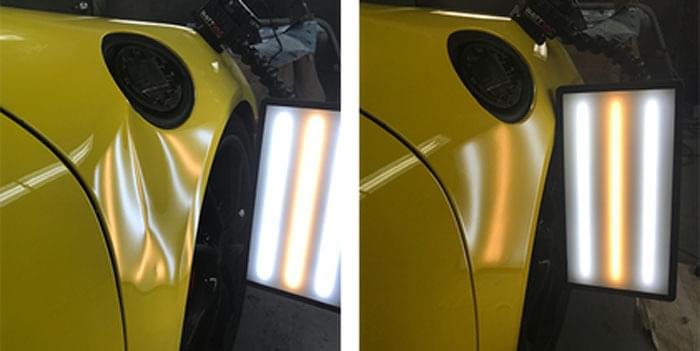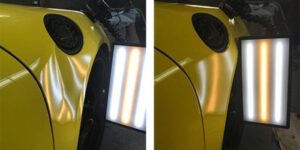 Paintless Dent Removal – Call For a Quote!
Searching for "paintless dent repair services near me?" You've found the best! See our reviews.

Providing free estimates and paintless dent removal.

Top notch, professional auto body repair experts serving Uptown Charlotte and nearby areas for over 20 years!

Our techniques are accepted by insurance companies.
Piedmont Dent Repair offers PDR services to the entire Uptown Neighborhood. Here are the services we offer to our clients in Uptown Charlotte.
Paintless dent removal (PDR) entails getting rid of dents on your vehicle without requiring any filler or paint. This helps to maintain the original paint of the vehicle and the resale value. Further, since the process takes less time it costs much less than having it worked on in a traditional body work shop.
At Piedmont Dent Repair we can handle almost any kind of dent damage with our paintless dent removal services. PDR is a skill and at Piedmont Dent Removal we have mastered it thanks to the thousands of hours of hands on experience that we have.
We have invested in state of the art specialty tools that make it easy to massage the panel back to its original form. All of this happens in a short while depending on how damaged your vehicle is. To inspect the appearance of the repaired surface, a combination of artificial and natural reflection is used without touching the original paint of your vehicle.
From small dings and dents to moderate sized ones, we are able to quickly get your vehicle back in shape without requiring any paint.
Repair Service – Contact Us!
Hail Damage Repair – Free Estimates
Don't let hail damage get you down… call on our nearby professionals for repairs.

Affordable, mobile and very highly rated. Check out our reviews on Google.

Offering the best customer service guarantee in the industry.

PDR is the top way to repair your vehicle fast without compromising the original paint or parts.
If you have ever seen a car with hail dent damage then you know how unsightly it can look. Hail leaves many dings and small dents on your car that can make you hate your ride. This doesn't have to be you though, because at Piedmont Dent Repair we are hail damage repair experts.
We promise to work on your car meticulously until we are able to restore it to the original condition without using any paint. Our technicians have mastered the art of restoring tiny dings for that shiny, reflective surface you are always used to.
With our reflective technology we are able to identify all the tiny dings on your car that you might not have seen. We can work with all people whether you have insurance or not. Our hail damage repair is cost effective and efficient.
Auto Body Shop – Get a Free Quote
Mobile Paintless Dent Removal – We Come to You!
Our top tier, professional auto dent removal experts can provide damage estimates over the phone.

Check out our videos online to learn more about our highly rated process.

Read our reviews and discover why we're the best in Uptown Charlotte and nearby areas.

PDR is the top, most affordable way to repair your vehicle and make it look new again!
At Piedmont Dent Repair we care for our clients, which is why we are happy to offer mobile dent removal services. Regardless of where you are in Uptown our skilled technicians will come and repair your car either at home or even at work.
Ensure however, that there is enough space around the car for the technician to be able to work. Some of the metal rods we use to access the dent from the inside can be really long.
Depending on the level of damage, the repair is completed in a couple of hours. This not only saves you time but also money since you will not have to arrange hire cars to get you to work. Our technicians come fully prepared with the complete arsenal of tools to ensure the job is done right the first time.
Auto Repair Shop – Call for Mobile Services
Paintless Dent Repair – Highly Rated in Center City Charlotte!
Our top rated service is backed by a 100% satisfaction guarantee – you've got nothing to lose!

Proudly serving customers throughout Charlotte and nearby neighborhoods.

Don't live in Center City? Not to worry, we're mobile!

Best online reviews – search for us on Google and find out for yourself!

Call now! We'll assess the damage and give you a free estimate over the phone.
At Piedmont Dent Repair we are masters when it comes to Paintless Dent Repair. We use a variety of processes to repair your car without causing any damage to the paint work. The choice of the method to use depends on a number of factors including the location of the dent, the size, accessibility and type of the dent being repaired.
Our technicians can choose to access the dent from behind using specialized metal rods. The panel is then massaged with a lot of craftsmanship by performing tiny but accurate pushes at strategic locations on the panel until the dent is eliminated. This requires the skill, knowledge and a lot hand-eye coordination to perform to perfection.
Another method used is glue pulling when access to the dent is limited. In this method, plastic tabs of different sizes and shapes are glued to the dent and then it is pulled out. There are other specialized tools used in the process that perform certain specific tasks. Light reflection is used to see the shadows formed by the dent to identify where the dent still requires repairs and tiny dents you cannot see normally.
At Piedmont Dent Repair we are experienced with Paintless dent repair and we have built our arsenal of specialized tools to use in the process for a perfect repair. Like it never happened.
Uptown, dubbed the Heartbeat of the Queen City is the central business district of Charlotte and the biggest business district in the Carolinas. Uptown is split into four areas by the intersection of Tyron and Trade Streets. Besides being the historic core of Charlotte it is also home to most of the major institutions in Charlotte.
Some of the Fortune 500 companies in Uptown Charlotte include; Bank of America, Duke Energy, Wells Fargo, Sonic Automotive, Lowe's Co and Sealed Air amongst others.
Best restaurants in the area include; Stoke Charlotte, Rooster's Wood-Fired Kitchen, Luce, The Capital Grille, The Asbury, Kings Kitchen and many more to choose from. Restaurants offer a wide range of cuisines to cater for different taste buds.
Uptown Charlotte is not short of things to do with so many places of interest including; The Discovery place Science, St. Peter's Episcopal Church, Old Settler's Cemetery, Confederate Navy Yard Marker landmark, The Mint Museum of Craft and Design, ImaginOn, Afro- American Cultural Center, Carowinds and so much more.
Shoppers will find things they need at The Metropolitan, Latta Arcade, Epicenter, Founders Hall, Beehive Gifts, BOA Plaza retail Mall and the 7thStreet Public Market.
Mobile Dent Repair 07 Mazda CX-7
Charlotte Mobile Dent Removal | Piedmont Dent Repair
Paintless Dent Repair Charlotte NC | Mobile Dent Removal
Examples of Dent Repair | Paintless Dent Repair Charlotte